Hoist Maintenance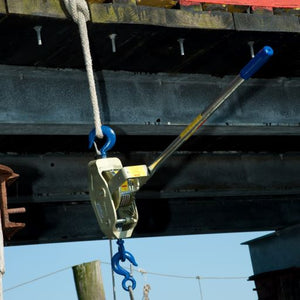 Lug-All come along ratchet winch hoists are designed to be long-lasting, hard-working tools that serve you for decades. In fact, many Lug-All winch hoists built 30, 40, and even 50 years ago are still being used today. One of the best ways to make sure your Lug-All winch hoists lasts as long as you need it is to perform basic maintenance regularly.
Inspection
The first step in preventive maintenance is regular equipment inspections. Before using a Lug-All winch hoist, you should perform a pre-operational inspection of the components and functions of your hoist. The open frame construction of Lug-All winch hoists makes it easy to visually inspect all of the components. Visual inspections include checking the hooks, the ratchet teeth and pawls, the webbing or wire rope line, and all other components. You can review our pre-operational inspection checklist for a complete list of inspection points.
It's also important to inspect the hoist's operation. Your Lug-All winch hoist should be able to pull the line in and let the line out smoothly. You can test this operation by applying tension to the line with one hand while operating the hoist normally in both tensioning and backing off modes. The line should also pay out smoothly when the free release trigger is pressed.
Maintenance
Lug-All winch hoists require minimal maintenance. The aluminum alloy frames resist corrosion, but some corrosion of movable parts is normal. To keep your hoist operating smoothly, these movable parts can be lubricated with lightweight lubricants or penetrants, such as WD-40 or similar products.
Repair
One of the greatest benefits of Lug-All ratchet winch hoists is the ability to repair them when parts wear out or break. A complete catalog of replacement parts is available at our online store. If you need to repair a Lug-All hoist, you can purchase replacement parts through the store and follow our instructional videos to see how to complete the repairs.
We also offer complete repair services through our Birdsboro, Pennsylvania, manufacturing facility. If you need repairs done for a Lug-All ratchet winch hoist, you can send it to us, and we'll perform all the necessary repairs using the same tools and processes used to manufacture it in the first place.
With regular inspections, simple routine maintenance, and repairs when necessary, you can be sure your Lug-All come along ratchet winch hoists will keep working hard for you for many years.