Improving Safety for Tree Service Workers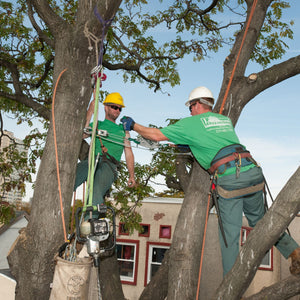 Tree service workers routinely climb trees to heights that many other people might find nauseating. While working at such heights, the workers must work very carefully and deliberately to avoid the dangers of working so high off the ground.
There are a few important factors to staying safe while performing elevated work for tree service. To work safely at height, it is important to know and be aware of the work environment and the specific hazards on any given job. Nearby electrical power lines, dead trees or limbs, and windspeed are a few of the elements to consider when performing arborist work.
Safety equipment and personal protective equipment (PPE) also play a role in ensuring safe operation. Safety equipment can include climbing harnesses, ropes, and any other specific equipment required for a given job. It is crucial to inspect safety equipment before each use to ensure worker safety. PPE includes equipment such as hard hats, safety glasses, gloves, and any other necessary gear. This equipment must also be inspected regularly and replaced as necessary to protect workers effectively.
Finally, using the right equipment is essential to perform treetop work safely. While working in elevated locations, it is important to be able to perform a job without unnecessary complications. Working at height has inherent safety risks, as falls from height can cause serious injuries even to workers who are using proper safety equipment and PPE. When working in dangerous situations, your tools should make your job easier, not more difficult.
It is also important to maintain that equipment and keep it in good working condition. Tools, safety equipment, and PPE should be tested, cleaned, and stored properly to prevent excessive wear and tear. They should also be visually inspected to ensure they are safe to use before every use, and damaged equipment should be removed from service.
Lug-All come along ratchet winch hoists make pulling and hoisting simple and safe. The standard latching shank hook makes it quick and easy to hook the hoist to a load or an anchor, and their 360-degree swiveling design allows them to rotate freely during operation. This ease-of-use allows you to focus on working safely instead of fumbling with difficult tools.
Lug-All web strap ratchet winch hoists also have dielectric properties that make them better for use around live electricity than hoists with conductive wire rope lines. The open frame design of Lug-All winch hoists also makes it easy to perform visual inspections and maintenance. There are many potential dangers when working in treetops; Lug-All winch hoists make it easy to perform winching and hoisting tasks, which can help make dangerous jobs safer.