Lineman Hurricane Stories: Hurricane Irma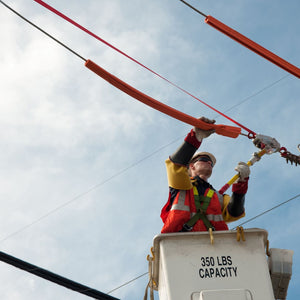 The Atlantic Hurricane Season lasts from the beginning of June to the end of November, reaching its greatest intensity between August and October. These hurricanes can bring significant destruction when they make landfall and require tremendous recovery efforts to clean up. Recently, Hurricane Dorian demonstrated just how destructive these storms can be when it hit the Bahamas as a category 5 hurricane.
When hurricanes and other disasters strike, many linemen often travel to the affected areas to help restore electrical power. In Part 3 of this series, Max Germain's story demonstrated how hurricanes aren't the only powerful storms that require a quick response from linemen. Our next story comes from Mike, a lineman from New York, and it shows why hurricanes still tend to be the storms we think of when it comes to severe natural disasters and power outages.
Mike—National Grid
The 2017 Atlantic Hurricane Season was one of the worst hurricane seasons in recent memory. Hurricane Harvey brought record rainfall to Texas and Louisiana with extreme flooding in the Houston area. Hurricane Maria battered Puerto Rico with 155 mile-per-hour winds as a Category 4 hurricane, destroying many buildings and structures on the main island and smaller surrounding islands. Hurricane Nate devastated parts of Central America and caused heavy rains and significant flooding in coastal Alabama. Hurricane Irma reached peak intensity with 180 mile-per-hour winds as it struck several eastern Caribbean nations as a Category 5 hurricane, then made landfall in Florida as a Category 4.
Hurricane Irma was one of the largest hurricanes on record, covering nearly the entire state of Florida at once. As the storm moved over the state, officials recorded sustained wind speeds of 112 miles per hour and gusts up to 142. Storm surges were recorded up to 7.6 feet, and peak rainfall was over 21 inches. The storm also spawned at least 23 tornadoes.
Over the course of the hurricane, 7.7 million electrical customers lost power throughout Florida, with outages occurring in all of the 67 counties in the state. The storm was estimated to have caused $50 billion worth of damage. With Irma making landfall less than two weeks after category 4 Hurricane Harvey, resources and workers for the recovery effort were in high demand. Mike, a lineman from Upstate New York, traveled to Florida to help repair the electrical grid.
For a month, Mike and the other linemen spent 16 hours each day rebuilding much of the distribution grid from the ground up. The work included setting new poles, replacing broken power lines with new wire, re-tensioning the power lines on the new poles, and much more.
With millions of customers without power across the state and in need of other relief services, time was not on the linemen's side.
Even though the linemen had to work as quickly as possible to restore the power, the work was still slow. The destruction caused by Hurricane Irma reached much further than just knocking down power lines. Many homes and business were also damaged or destroyed, and trees and other debris made it difficult for workers to access work locations. Because of this large amount of debris, workers had to clean up the area before they could get to the utility work.
Mike told me that he and the other National Grid linemen use Lug-All Come Along Ratchet Winch Hoists frequently in their typical workdays, and they were glad to have them along for the hurricane recovery. The scope of the damage caused by Hurricane Irma meant that they were required to perform tasks beyond the duties of their normal workdays. From clearing out trees and other large debris to setting all-new power lines to tensioning the wires, Mike and his crew had a huge amount of work they had to complete each day. Having a versatile tool that they could use for many different tasks throughout the recovery process allowed them to work efficiently despite the poor conditions.
The widespread damage across Florida also made many areas inaccessible to work trucks and other large equipment. Mike and the other linemen had to work in those areas with just the equipment they could carry, so they had to know that their tools would be up to the task. Again, Mike explained that his Lug-All hoist was ideal for those tasks because it was light enough to carry in and out of hard-to-access locations all day.
Each of the linemen I interviewed for this series of blogs described long days of demanding work whenever they worked on a disaster recovery job. Their efforts are crucial to major storm recovery operations across the country every year. Their commitment to restoring the electrical grid after natural disasters allows other responders to work at their maximum capacity and helps residents and businesses rebuild as quickly as possible.