Lug-All—Made in America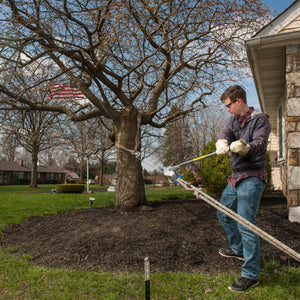 Lug-All was founded by George Uhlig in 1949, and manufacturing began on the Lug-All winch hoist, the first product to function as both a winch and a hoist. From the beginning, Lug-All has been made in America. Today, Lug-All is headquartered in Birdsboro, Pennsylvania, and every new Lug-All winch hoist is produced at that location. Each one is hand-assembled and tested to the highest standards.
At Lug-All, we're proud of our longstanding made-in-America tradition. While other manufacturers might choose to outsource production for cheaper parts or labor, Lug-All is committed to continuing our US-based manufacturing.
Keeping our production under our own roof helps us to maintain strict quality standards. In addition to manufacturing new hoists, we also repair damaged hoists at our Pennsylvania manufacturing facility. These repair services help extend the life of your hoist and save you money by eliminating the need to replace your existing Lug-All winch hoists.
By both making and repairing our winch-hoists in this facility, we ensure the highest quality of repairs for every Lug-All user because the people who repair our hoists are the same people who assembled them in the first place. Staying committed to making all of our Lug-All come along winch hoists in America allows us to provide you with the hoists that we would want to use ourselves.