Thank a Lineman this October During National Co-Op Month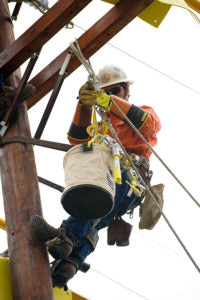 This October, Lug-All is celebrating National Co-Op Month by standing with the electric cooperatives that provide service to 42 million people across 47 states.
There are 838 electric cooperatives nationwide, employing over 72,000 people. These cooperatives are 100% owned and managed by their consumer-members, allowing the businesses to focus on meeting the needs of their communities, rather than generating returns. Instead, their commitment is to provide safe, reliable, and affordable energy to their members.
According to America's Electric Cooperatives, electric co-ops in 2017:
Own assets worth $164 billion

Own and maintain 2.6 million miles, or 42%, of the nation's electric distribution lines

Deliver 11 percent of the total kilowatt hours sold in the U.S. each year

Generate nearly 5% of the total electricity produced in the U.S. each year

Employ 72,000 people in the U.S.

Retire over $800 million in capital credits annually
As part of this celebration, Lug-All would specifically like to recognize the efforts and achievements of the 115,000 electrical linemen and women who provide us with the electricity we need to keep our lives going. We are honored to provide the equipment for them to do their jobs safely. We thank them for trusting us and for keeping our lights on and our businesses going.
To voice your own appreciation, use the hashtag #ThankALineman or go to www.coopmonth.coop.