The Lug-All Tradition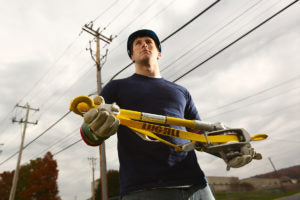 Our number one priority is to provide superior and reliable hoists, with quality services that you can depend on. At Lug-All, we believe in durability and longevity, manufacturing long-lasting, state-of-the-art hoists that last for decades. We reject the notion of planned obsolescence in industrial design—or, manufacturing products with consumable components that must be replaced regularly or thrown away entirely. While other hoists on the market today utilize this idea of planned obsolescence, we have found that providing hoists that can literally last a life time not only saves our customers money, but it also improves safety and efficiency. The concept of planned obsolescence is something most hoist manufacturers don't want you to know about their products: they're made to be disposable. Sure, they cost $25 at your local hardware store! And, maybe you will get a handful of uses out of them. But, they are not made to last! In fact, chances are they will break over time and just when you need them the most. We have become a culture of throw-away items, meaning we buy up the cheapest products, and they become disposable very quickly. Then, we have to run out again and spend another $25 on that same product. Why not skip the five impending trips to the hardware store and purchase a hoist that will last forever? Whether you're a utility company using a web-strap hoist for maintenance or repairs to live power lines, or you're an enthusiast looking for a cable hoist to help with weekend projects in the backyard, Lug-All Come Along Ratchet Winch Hoists are—without a doubt—the most durable in the world.
WHAT MAKES OUR HOISTS EXCEPTIONAL?
In 1949, George Uhlig saw an urgent safety need: to prevent load slippage on cable lever ratchet hoists. His idea was to create the interlocking, double-pawl ratchet system to ensure that one pawl always holds the load. Lug-All Corporation brought his vision to reality, designing the first fully functional interlocking double pawl mechanism built with aluminum castings. The product, which was known as the Lug-All Winch-Hoist, was the first product of its kind to function both as a winch and a hoist. Now, our web-strap and cable hoists both utilize the interlocking pawl system and aluminum alloy frame, along with high-strength alloy steel latching hooks and safety features to eliminate the possibility of overloading the hoist. The web-strap hoists come with easily replaceable stress links to prevent worker injury or damage to the hoist due to accidental overloading, whereas the cable hoists are made with a steel handle that's design to bend when overloaded. Each hoist is designed with an aluminum alloy frame for ease of use and maintenance. The open frame construction allows for easy cleaning and visual inspection. Self-lubricating brushings throughout the housing and on the pulley ensure smooth operation. Our careful construction of exacting design, stringent material specifications, and flawless machining results in the most durable hoists in the world. We have built literally thousands of Lug-All hoists in the 1950's, 60's, 70's, and 80's that are still on the job today. When you visit our Pennsylvania manufacturing facility, you'll see an unexpected contrast: after our state-of-the-art CNC machines turn-out precision Lug-All hoist parts, they are carefully inspected, hand-assembled, and tested above and beyond industry standards. Over the years, Lug-All's product line of cable and web hoists has evolved to meet the needs of multiple industries and applications. But, our goal is still the same: manufacture the highest quality hoists available in the industry. Lug-All Cable and Web Strap hoists stand the test of time, every time.