Trade Shows: A Quick Look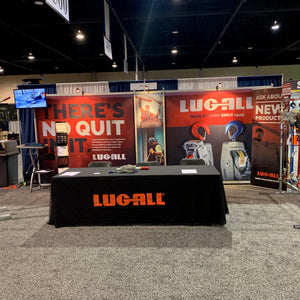 Every year, producers, manufacturers, and other businesses attend industry trade shows. These trade shows provide a platform for businesses to demonstrate new technologies and products and for potential customers and users to view them firsthand. Many businesses also announce new initiatives and officially launch product lines at trade shows. In 2020, Covid-19 prevented many trade shows from being able to take place.
In 2021, as preventive measures improved safety and reduced the risk of transmitting Covid, many trade shows got back on schedule. Some of the shows Lug-All attends every year include STAFDA, The Utility Expo, and the International Lineman's Rodeo. This year, The Utility Expo was Lug-All's first in-person trade show since fall 2019.
The Utility Expo, formerly the International Construction & Utility Equipment Exposition (ICUEE), is an all-inclusive utility industry trade exhibition. It is the largest event for vendors and utility providers in the electrical transmission and distribution, telecommunication, natural gas, water, and wastewater industries. Attendees have the opportunity to view and interact with new equipment and products across more than 32 acres of event space, talk to hundreds of industry experts, attend seminars on the latest industry best practices, and more.
As the first show in a long time for many businesses, The Utility Expo was well-attended with over 900 exhibitors, including OEM industry giants like John Deere, Volvo, and more. Many other equipment and accessory manufacturers also exhibited at the show, displaying new electric vehicles, new safety technologies, improved features and functionality for existing equipment, and much more.
Lug-All's display included our web-strap hoists, which are ideal for utility and power line work, thanks to their dielectric web straps and nonconductive fiberglass handles. Trade shows like The Utility Expo provide an opportunity for Lug-All not only to connect directly with potential customers and end-users, but also to give practical, hands-on demonstrations of Lug-All come along ratchet winch hoists.
While Covid is still a consideration for large events, such as trade shows, safety measures have allowed businesses to take advantage of the great opportunities they offer. Since attending The Utility Expo, Lug-All has also participated in the Lineman's Rodeo, and we are looking forward to even more trade shows in the future.
To see Lug-All at The Utility Expo, Lineman's Rodeo, and other shows, and to keep up with future trade shows and events, check out our Facebook page!