Vehicle Emergency Preparedness: What You Should Know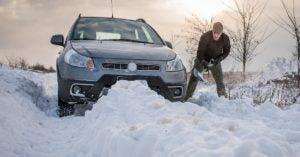 Whether you are an ATV or off-roading enthusiast or you just want to be prepared for the worst during the winter months, it's important to always have an emergency kit on hand in case of an accident or inclement weather. Emergency preparedness has saved many lives, and it's quite possible that you, too, could become a stranded motorist at some point in your life.
Self-Rescue
But, there's one idea we don't hear much about when it comes to emergency preparedness, and that is the ability to self-rescue. If we are looking at real emergency preparedness for vehicles and ATV's, we should also be thinking about ways to self-rescue when possible. If we are prepared in our adventures, we may never have to use that emergency kit. For instance, bringing along a small shovel is a great idea in case you have to dig yourself out of ditch, mud, snow, etc. It's also smart to bring along an emergency warning light, flairs, a pocket knife, a spare battery, and a spare tire. But there's one item many emergency preparedness kits do not include: a simple come along ratchet winch hoist.
Including a hoist in your emergency kit can mean the difference between self-rescue and being stranded. A ratchet winch hoist can be used to pull your ATV or vehicle from the mud, snow, or even a ditch. They can also be used to move heavy objects like fallen trees in the event you have to make a shelter outside of your car or vehicle. Ratchet winch hoists are lightweight, compact tools that serve hundreds of uses, from towing a vehicle out of a sticky situation to removing a tree or fallen object from your car's path. Having a hoist could keep you from ever having to use that emergency preparedness kit, and a proper ratchet winch hoist will last for decades.
Unfortunately, there are times when even a hoist won't do the trick. This is especially true for serious car accidents. In these cases, it is essential to have your emergency kit readily available until rescue arrives. This could easily save your life.
Emergency Kits
So, what kind of items do you need to keep in an ultimate survival preparedness kit? According to the Federal Emergency Management Agency (FEMA), there are essential supplies every motorist should carry around in his or her car. To start, you have to think about food, water, and weather. The first priority for any stranded motorist is staying hydrated. Keep in mind that each person will need to drink about a gallon of water a day, which is a heavy load to carry around. For this reason, Popular Mechanics suggests packing a case of 16 small drink boxes of water. They're lighter and many brands have a shelf life up to five years. It's also a good idea to carry something empty that you can use to collect water, in case you run out. In fact, in 2011 a 56-year-old Nevada woman was found in a remote area after being stranded in her car for seven weeks. Her car was stuck in the mud, and she had to make do with whatever she could find to survive. She actually used a plastic bag that she had in her car to catch rain water and a t-shirt to filter it. Having that plastic bag in her car literally saved her life.
Food is also very important to have on hand if you become stranded in a remote area. High calorie energy bars are a great suggestion, along with protein bars, and even canned food. The Canadian Arctic Rescue Team even suggest carrying around a can of dog food. Oftentimes, stranded motorists will eat the food they've packed in their kit too quickly. Once they run out of food, they run into trouble. Having a can of dog food will make you less likely to indulge, which means you will most likely save the dog food until you absolutely need it.
The next important item to bring along is a warm blanket. Regular blankets are fine for normal weather, but purchasing a space brand blanket is a good idea. A space brand blanket is simply a metal-coated plastic sheet that increases your body temperature. Wool blankets are also a great idea. Along with those three essential items, be sure to pack a flashlight, matches or a lighter, and candles. Rechargeable flashlights are also a great idea because they can be charged in your 12-volt outlet. A whistle with two chambers works better than shouting for help, and a solar or hand-crank powered radio and cell phone charger will also come in handy.
Every emergency preparedness kit must contain a first aid kit. Purchase one with as many items inside as possible. You never know when you will need sunscreen, duct tape, bandages, a CPR mask, burn ointment, band aids, eyewash cups, antiseptic wipes, and pain relievers. Along with your first aid kit, pack a toolkit that contains locking pliers, adjustable wrenches, screw drivers, pliers with wire cutters, a ratchet and sockets, hex keys, and more. According to Popular Mechanics, a good toolkit to purchase for both vehicles and ATV's is one that was designed for motorcycle trekking. They generally have everything you need in one small, lightweight case that can be easily transported in small areas.
All of these suggestions can help to save your life in the event that you ever become stuck or find yourself in an accident, leaving you stranded on the side of the road. Including a self-rescue kit is so important because it can mean the difference between being stranded and making it home safely. Your emergency kit is also really important in the event that self-rescue is not an option. Either way, it pays to be prepared, especially when it could mean the difference between life and death.