What Sets Us Apart: Lug-All Quality and Testing Procedure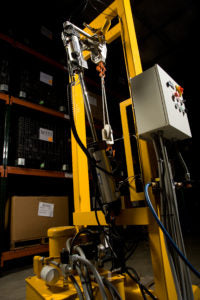 Lug-All Come Along Ratchet Winch Hoists are some of the most durable and reliable hoists on the market. To ensure that our hoists live up to our high-quality standards, they go through precision machining and rigorous testing processes. Parts are machined to tight tolerances, carefully inspected, and hand-assembled to verify that every hoist is built to our standards.
It starts with extensive research, development, and equipment testing, including cyclical and destructive testing. The cyclical testing machine loads hoists to maximum capacity to test longevity and to identify points of excessive wear on the components. Results of cyclical tests can be used to find new ways to reduce wear and to increase the lifespan of Lug-All hoists. These tests also ensure that our hoists meet the requirements for CE and TUV certifications for sale in the European Union.
Destructive testing is used to verify that the load-bearing parts of Lug-All hoists meet the 4:1 safety factor requirement. Using a direct line pull on a hoist, the destructive testing machine pushes components to their breaking point, making sure nothing fails below its required capacity. Destructive testing also ensures that components from new suppliers meet Lug-All's strict safety standards.
Manufacturing
Inspection and testing procedures also happen at every stage of manufacturing. All raw materials and finished parts undergo visual inspections, and all castings receive full dimensional testing. After the components have been inspected and approved, they are given a part number and an acceptance sticker, and they can begin the production process.
After the parts have been inspected and given acceptance stickers, machinists begin to remove excess material left over from casting. Every machinist is responsible for quality assurance measures, and they do a first-piece inspection, checking the first part of every lot to ensure every dimensional aspect is correct. The parts are then machined to tolerances as small as 0.001 inch and sent to the next stage of construction.
At the next stage, not only are parts dimensionally inspected, but assemblies are completely assembled and functionally inspected as well. This step ensures that the assemblies' parts were created and machined to the correct dimensions and tolerances so that they function properly.
Assembly
After all components have been inspected and machined to the correct tolerances, they are ready for assembly. Here the parts receive another visual inspection; workers verify that the finished parts from vendors align correctly with the machined parts and that the assembly has the necessary clearances to work correctly.
Finally, once a hoist has been fully assembled, it is placed in the production proof test machine where it is loaded to 125-150 percent of its rated capacity. The production proof test ensures that the fully-assembled hoist won't fail in operation when loaded to its maximum capacity and that all hook connections meet their strength requirements.
At Lug-All, quality control is the responsibility of all employees. Parts and components are inspected at every stage of construction to verify that no customer receives a defective hoist. All employees are also cross-trained, so they know every step that goes into the production process and can identify any mechanical or material defect.
Our extensive and thorough approach to quality assurance is what allows us to build the safest, most durable hoists on the market. Lug-All Come Along Ratchet Winch Hoists are built for safety; their high-quality construction allows them to work hard without failing, protecting users and their equipment. Lug-All hoists are also built to last; our commitment to maintaining the highest standards keeps them working hard for decades.