Winching and Hoisting: Can Your Winch Double As a Hoist?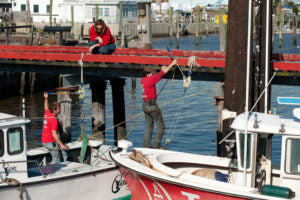 Winches and hoists were designed to make heavy lifting/pulling safer and easier. Although they look alike, winches and hoists were actually engineered to do slightly different things. A winch is used to pull a load horizontally over a slight incline, whereas a hoist is used to lift a load vertically over inclines greater than 45 degrees. It's important for users to choose the right equipment for applications requiring hoisting or pulling. The old mantra is true: always use the right tool for the job. While winches are generally used to pull, and hoists are generally used to lift, there are multiple options on the market today, some of which actually include both functions. These are what the industry refers to as winch hoists.
More About Winches
Winches are mechanical devices used to wind a cable to create enough tension to pull a heavy object. Manual winches are easy to carry from one job site to another, and a well-made device will last decades if used and maintained properly. Most winch drums are fabricated with steel and designed for a specific load capacity. Manual winches, for instance, are designed with a cable wound around a drum. There are dozens of winches and winch-hoists on the market today, but industrial winches are the way to go if you're looking for a pulling device that will last decades. Industrial winches are often used for heavy applications like towing vehicles or boats, or removing heavy rocks, trees, and cumbersome equipment.
More About Hoists
Hoists are used for jobs that require lifting or lowering a load. Lifting heavy objects—like steel beams, engine blocks, construction materials, or even HVAC appliances—is the job of a hoist. That's because hoists lift and lower, and winches pull and back off. Hoists are made with chain or wire rope, and they can be operated manually or motorized. Manual hoists are meant to be ratcheted, levered, or hand cranked. Electric chain hoists are ideal for mechanics and machine shops because they can be plugged into any standard electrical outlet. Air chain hoists are used to lift heavy materials in flammable, dusty or dirty environments.
Winch Vs. Hoist
Another differentiating factor separating winches from hoists is their braking system. Most winches are made with dynamic brakes, meaning the gear system will automatically hold the load. Dynamic brakes use the winch gears for resistance, which is why they are unstable for lifting or suspending loads. If you were to use a winch to suspend a load, the load could easily slip or the gears could become damaged, resulting in catastrophic failure.
Hoists, on the other hand, are designed using a mechanical braking system. This system features a physical brake that locks the suspended load, preventing the line from bleeding. Because hoists do not have a free spool mechanism, they are the best and safest option for lifting materials. Many industrial hoists are even equipped with a load-limiting switch or stress link to prevent the user from overloading. The good news is that there are many industrial products on the market today—like Lug-All Come Along Ratchet Winch Hoists—that are designed with a double locking pawl system, meaning they cannot slip under load, and a stress link/breakable handle that prevents the operator from overloading the hoist.