Dock Company Uses Lug-All Winch Hoists for Construction and Maintenance of Freshwater Floating Docks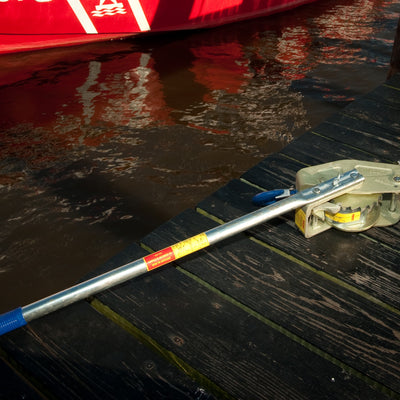 OVERVIEW
A dock service company based in Gainesville, Georgia uses Lug-All come along ratchet winch hoists for many of their operations. The company specializes in fresh water floating dock construction, and most of their work is done for private residences on Lake Lanier. Their service crews provide a full range of services from dock construction to repair and remodeling operations. 
1001 USES
Workers at the dock company use Lug-All come along ratchet winch hoists for many of their tasks. Floating docks are one of their primary services, and they commonly use Lug-All hoists to lift the corner of a dock from a work boat to install new floats underneath. They use Lug-All hoists for other construction tasks as well, including lifting anchor pipes and applying leverage to secure parts for welding.
Workers also use their Lug-All winch hoists for towing and securing docks when needed. They can be used to secure a dock to the shoreline or to attach a dock to a boat temporarily to move it across the lake. In addition to these tasks, workers use Lug-All hoists for many other tasks, small and large.
WHY LUG-ALL
When we asked the Maintenance Manager why they choose Lug-All come along ratchet winch hoists over other products, the answer was simple. "It is a great product," he said. "We use Lug-All hoists daily, and we especially like the serviceability and availability of parts."
He told us that the workers keep at least three Lug-All 4000-20 hoists on each of their boats. Because they use them so often, the hoists need to be ready whenever they are needed. The open frame design of Lug-All winch hoists makes them easy to maintain; Lug-All winch hoists can be repaired with original parts available from a Lug-All dealer or the Lug-All online store, and any parts that wear out can be replaced quickly. These features ensure that the workers' Lug-All winch hoists are always ready to work.