Lug-All Spotlight - Fred Garris, Elevator Mechanic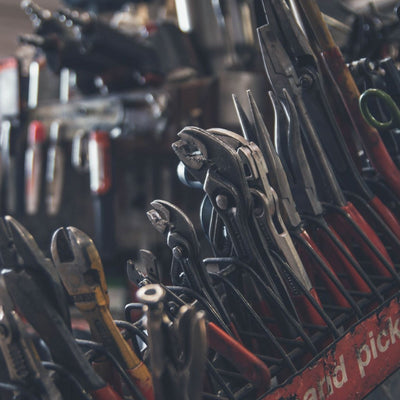 OVERVIEW
Fred Garris is a professional elevator mechanic who relies on Lug-All come along ratchet winch hoists for various tasks. Because he usually works alone, Fred describes his Lug-All winch hoists as his extra set of hands. They help him to lift and move tools, equipment, and large loads that would be too difficult or too heavy to move on his own.
1001 USES
When moving heavy objects in tight spaces, such as elevator shafts, Fred uses a Spanco Aluminum Gantry Crane. When he is not using the crane, he disassembles it for storage. The size and weight of the crane beam makes it difficult for him to assemble on his own, so he uses a Lug-All come along to hoist the beam into position. With the beam secure, he can easily attach or remove the gantry legs by himself. The Lug-All helps him save time and effort when he needs to assemble or disassemble the crane.
Fred also has several extension ladders that he uses for work and for jobs around his shop and home. He stores the ladders in the trusses in his pole barn while he isn't using them, and he uses his Lug-All hoists to put them there. He attaches one end of a ladder to a hanger bracket on the truss, then uses a Lug-All come along to hoist the other end up to another truss. Fred explained that there are pulley systems designed for the same application, but that system can only be used for that specific application.
WHY LUG-ALL
Fred described several reasons that he chooses Lug-All winch hoists over other equipment. One important reason is the versatility a Lug-All come along offers. He can use a single Lug-All winch hoist for hoisting ladders, raising the gantry crane beam, lifting heavy equipment, performing elevator maintenance, and many other jobs. Lug-All winch hoists save him money by allowing him to use a single tool for many jobs, rather than using individual specialized tools for each job.
He also told us that he trusts his Lug-All hoists. Fred has been using Lug-All hoists for a long time, and they have proven strong and reliable. The quality construction of Lug-All products makes them dependable for all of the different jobs required. He is also pleased to use a quality product from the United States. All Lug-All Come Along Ratchet Winch Hoists are manufactured at our facility in Birdsboro, Pennsylvania.