Lug-All Spotlight - Long Branch Run Ranch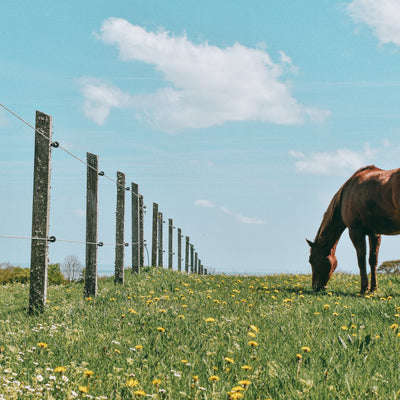 OVERVIEW
Barry Addison is a Lug-All user who owns and operates Long Branch Run Ranch in South Carolina. He raises a variety of animals at the ranch, including horses, beef cattle, and sheep. Additionally, he grows and cuts alfalfa, coastal Bermuda grass, and Bahia hay.
At a ranch like Long Branch Run, there is always work to do. The variety of work means that, in addition to the animals on the ranch, there is a lot of equipment and machinery around as well. This equipment—including tractors, bulldozer, and more—must be maintained and occasionally repaired. One tool he uses for a range of tasks around the ranch is his Lug-All come along ratchet winch hoist.
1001 USES
Barry described his Lug-All winch hoist as his go-to tool for working around the ranch. One specific use he described was fence construction. He uses the Lug-All winch hoist to stretch wire fence to attach it to the fenceposts. He can also use it to apply tension to the gate post to make sure the gate is level and aligned with the rest of the fence. Because Lug-All winch hoists can be left under tension, the hoist holds the post in position while he fixes the gate in place.
He also uses his Lug-All winch hoist to help him maintain the equipment he uses around the ranch. A Lug-All winch hoist can operate as both a winch and a hoist, so it can be used to lift equipment and heavy components that needs to be raised to allow him to perform maintenance and repairs. One important use he has for it is the root rake for his bulldozer. He uses a tractor to lift the root rake, then hooks it to his Lug-All winch hoist to pin it into position.
WHY LUG-ALL
There are two important factors to why Barry chose a Lug-All winch hoist. The first is capacity. Although he admitted he would like to have a higher capacity model, he told us that his model 1000-25 has been able to handle every task he's used it for. With 1,000 pounds of pulling and lifting capacity, the 1000-25 is a highly capable tool at an affordable price.
The second factor Barry considered is Lug-All's American roots. As a veteran, it is important to him to be able to support American businesses and buy products made in the US. At Lug-All, we're proud to be an American manufacturer, and every Lug-All winch hoist is produced at our Birdsboro, Pennsylvania, manufacturing facility. Making our products in the US allows us to maintain high standards of quality and durability and to provide users like Barry with excellent service and superior manual come along ratchet winch hoists.