Lug-All Spotlight - Pierre Scott, Recreational Sailing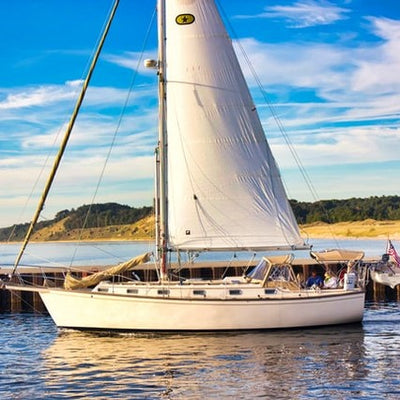 OVERVIEW
Pierre Scott is a Lug-All customer with a unique application for his Lug-All Come Along Ratchet Winch Hoist. Pierre has a sailboat with a dinghy that is used while the sailboat is at mooring. The dinghy is equipped with a 98-pound outboard motor. To keep the weight of the dinghy balanced on the sailboat's davit, Pierre removes the motor and secures it in a specially designed location while traveling.
1001 USES
To remove and reattach the nearly 100-pound motor, Pierre needed a tool that would allow him to move it over the distance between the sailboat and the dinghy easily and reliably. He chose to purchase a Lug-All wire rope hoist. The hoist function of the Lug-All allows Pierre to lift the heavy outboard motor easily when removing it from the dinghy to place on the sailboat. The lowering function also allows him to lower the motor securely and precisely when placing it onto the dinghy.
WHY LUG-ALL
When we asked Pierre why he chose Lug-All, he gave us a few reasons. First, he searched the internet for reviews and information on different hoist products. While the Lug-All winch hoist was one of the more expensive products he found, he said that he prefers to spend a little more on a good product than to buy a cheaper, lower-quality product. As he explained, "when you try to save money on tools you need, you find yourself paying more over time."
After he received his Lug-All winch hoist, he told us that he made the right decision. "The craftsmanship is excellent, the construction is awesome, the mechanism works precisely, and the wire is perfectly wrapped," he said. For his application of lifting and lowering the outboard motor, the Lug-All come along is exactly what Pierre needed.