Fire Company Uses Lug-All Winch Hoists for Rescue Operations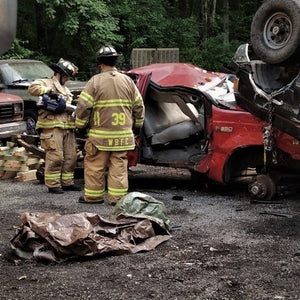 Overview
The West Bradford Fire Company is a 100 percent volunteer organization providing fire protection for West Bradford Township in southeastern Pennsylvania. Like most fire departments, West Bradford Fire Company doesn't just put out fires. Frequently, the fire company works with other emergency services to respond to vehicle accidents and rescue situations. When firefighters need to rescue people on the scene of an accident, they need equipment they know they can rely on.
1001 Uses
One of the tools West Bradford Fire Company members use is a Lug-All Ratchet Winch Hoist. On the site of vehicle rescue operations, firefighters can use Lug-All hoists in a variety of situations. They might use them to pull back doors and roofs for extrication, hold heavy objects in place, and stabilize vehicles or other objects that could pose a risk if they shift during operations.
In many of these situations, a unique feature of Lug-All winch hoists offers an enormous benefit. Frequently, firefighters use one or more Lug-All hoists to hold a vehicle or multiple vehicles in place to allow them to continue working on stabilization. Because Lug-All hoists use a double-locking pawl, they can be left holding a load in a stationary position. This feature makes it possible to secure objects with a Lug-All hoist and leave them in place while firefighters perform other rescue operations or implement additional stabilization measures.
Why Lug-All
West Bradford Fire Company Chief Jack E. Law III endorsed the use of Lug-All winch hoists, stating that the company had been using them for 42 years. Over that time, they have found them to be the most reliable and well-made hoists available. He also said appreciates Lug-All's customer service, since they have been able to receive repair services and replacement parts quickly.
Now, the fire company keeps two Lug-All winch hoists on their Rescue truck. They stay on the truck at all times and are ready to be put to use whenever they are needed on the job.