Off-Road Equipment: Mounted Electric Winch vs Lug-All Winch Hoist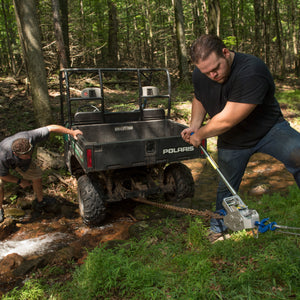 Off-roading is a popular hobby in many parts of the United States and around the world. Off-road enthusiasts head out on trails and beyond with Jeeps, trucks, four-wheelers, snowmobiles, and any many other all-terrain vehicles for adventures from mudding to rock crawling. One tool many off-road vehicles have equipped, and off-road enthusiasts know they need, is a winch.
One of the most common things you can see on an off-road vehicle is a front-mounted electric winch. Off-roading, especially in more extreme conditions, can sometimes leave drivers stuck in mud, on rocks, or in various other conditions. Winches offer a simple solution to that problem; just hook the winch cable to a secure anchor and pull the vehicle out. Mounted electric winches are popular for off-roading because they work well in most situations. But other solutions are available as well. A Lug-All come along ratchet winch hoist is a versatile tool that is great for rescuing stuck vehicles as well as a variety of other jobs.
Winching
Many vehicles that have been outfitted for off-roading have a mounted winch for occasions when drivers get stuck. These winches are typically mounted to the front of the vehicle, but some drivers choose to mount them on the back as well. They are also typically wired so that they can be operated from the vehicle seat. These mounted winches can then be used to pull the vehicle either forward or backward.
Lug-All winch hoists can be used in a similar way to mounted electric winches for pulling a vehicle forward or backward. Unlike a mounted winch, Lug-All winch hoists have to be operated from outside the vehicle. While operating from inside the vehicle might seem more convenient, outside operation is not necessarily a significant drawback. Winch operations can't be done entirely from inside the vehicle; you still have to get out of the vehicle to anchor the winch.
Additionally, inside operation has its own drawbacks. From inside the vehicle, you can't see whether the vehicle has broken free or if there are other obstacles in the way. To overcome this problem, winching with a mounted winch usually requires two people: an operator and a spotter. With a Lug-All winch hoist, there is no need for a spotter. A single person can operate the winch and spot the vehicle at the same time. Single user operation is especially beneficial for anyone who chooses to go off-roading alone.
A unique feature of Lug-All winch hoists is the fact that they can operate as either a winch or a hoist. While most mounted winches are designed for winching only, Lug-Alls can pull horizontally, vertically, or any angle in between. Any Lug-All winch hoist can operate at its maximum capacity regardless of the pulling angle, which is not always true of most electric winches.
Other Functions
Pulling a stuck vehicle isn't the only thing winches are good for. They can also be used to move large obstacles that block your path, such as a fallen tree. In most cases, clearing obstacles can probably be done equally with either an electric winch or a Lug-All winch hoist. But there are many other jobs that a Lug-All can tackle that would be difficult for an electric winch.
One of those jobs is vehicle rollover. With a winch mounted on either the front or the back of a vehicle, it is very difficult to use that winch for anything other than pulling forward or backward. A Lug-All winch hoist is not permanently mounted, so it can be placed anywhere it is needed. Again, this self-rescue feature is especially important for solo trips when there isn't another winch-equipped vehicle that can help with a rollover. Self-rescue capability can be a useful feature even on group trips if one vehicle gets stuck in a location where other vehicles can't get to it without also getting stuck.
While any Lug-All winch hoist makes a great tool for off-roading, the Lug-All lightweight winch hoists are created specifically for consumers. The lightweight, compact design of the 500-A, 500-i, and 1000-25 models makes them ideal for off-roading applications. These lightweight hoists can be stored easily in small spaces on any off-road equipped vehicle. The easy storage means you can keep your Lug-All in your vehicle, so you never have to worry about rescuing your vehicle when off-roading.